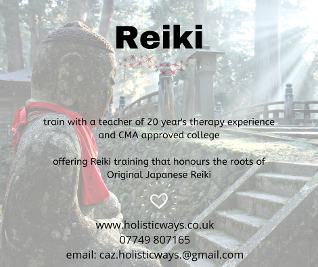 Energy, Balance and Reiki:

I make no claims for my Reiki. I simply practice Reiki daily. Sharing Reiki with others has become an extension of that. I am registered with the Complementary Medical Association. I try to be as neutral as is reasonably possible. I observe, and try not to give meanings/overlays to experiences.

I walk the path. I keep it simple, and I try to honour or echo the original ways.
I have been travelling the path of energy work and awareness- as a personal journey, and professionally. I have been lucky enough to develop under several different schools of thought and so grew with different perspectives, read widely and had the chance to explore my skills with a variety of different approaches.

Born sensitive, always too aware for my own good - I had a long and often arduous journey to learn to handle the abilities/experiences that too often blighted my life until serious illness affected me - and I really started to get to grips with the challenges facing me.
In my personal search a significant author - R H - referred me to an amazingly skilled energy worker who was to basically set me on my path to developing my capacities and mentored me over several years. It was a heck of journey!
Energy work has been one element within the spectrum of maintaining balance for me as a whole.
Reiki is one way to develop balance. I love the Reiki path, in all its mysteries. I am also trained in Crystal Reiki which unites my age-old fascination with all things related to stones and the beautiful world of gems and crystals and the earth.
TEACHING:
In the last 6 years I have been teaching Reiki, and hold Reiki Shares and experiences to help others share in this wonderful world of energy work and awareness.
For further information on Reiki, there are many organisations like the Reiki Federation, Association etc.,
Research: Reiki has not been well researched, but is gaining some ground, e.g.,
The Touchstone process (reiki)
The Cochrane Database
=========================================================================================================================================================
If you wish to book a session with me, please get in touch: 07749 807165, prices start at £35 for 1 hour.

If you wish to book a Reiki Experience, or training, please email me: caz.holisticways@gmail.com